Shipping Containers
Ben's Moving LTD offers the best in moving containers for sale and for rent! With the options of 20 square-foot shipping containers and smaller frog boxes, and available in a variety of colours from Blue and Beige to White and Grey, Ben's Moving provides the best service and the best equipment so that your move is as stress-free as possible!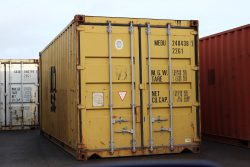 ---
Box Delivery
We can deliver moving boxes to you at a competitive rate. Remember: Large uniform boxes can speed up your move a lot, and pay for themselves many times over.
Packing Service
We encourage you to pack if you have the time, as moving supplies and packing can get increase your moving costs, as it is very time consuming. If you do need that service, please call us well in advance and we will take care of your needs. Please have all furniture apart as taking apart and then reinstalling furniture will increase the time it takes to complete the move, which will increase your moving costs significantly. If there is something too big to take apart, or if you are unable to do any of it, we will be happy to help, but please notify us of the situation well in advance. As a special note, please have pressboard items taken apart in small enough sections to move, as often they are made up of many different sections, which can be very time consuming for our workers to have to take apart and then reinstall.
Packing Tips
Tape all boxes below and on top marking fragile clearly. Please write this side up on any boxes that have lose items or liquids. Clothes are okay to be left in drawers unless the item is already above average weight or is weak in structure. Taping is not needed as we wrap shrink wrap around items to hold them in the drawers etc. ALL other items must be emptied as we do have to tip items during the moving process. If possible take the mirrors off of the dressers, have all the beds apart etc. If items are too heavy, we can help, but we would prefer it if you are able to take apart pressboard items. Lamp shades should be packed in boxes and pictures packed in picture boxes (if there are 2 or 3 large pictures, we can pack them in between the beds). Large plastic bags are okay for packing as long as they are tied properly and only contain clothes and soft items inside. Wardrobe boxes can just be rented on moving day to move clothes items at 5.00 each instead of the 15.00 per purchase price.
Heated Storage
We now offer heated storage for our clients. If you are looking for a heated storage solution, please contact us for the different rates and options that we can offer you.